Adding up the total of our wedding is something I've been meaning to do since we got back from our honeymoon. I never sat down and just did it until recently. Today, I finally put it into my trusty Excel and got the grand total. Why would I even care? Well, because I took great pains to keep this wedding as cheap as possible. Ok, not as cheap as possible, but on the cheaper side of things. I spent a lot of time making our own decorations and doing research for cheaper options. However, there were some things I wouldn't budge on like having a dress I was in love with and the photographer of my choice. I got all of that stuff. In fact, I got the most beautiful wedding that I've ever been to or seen without really compromising.
There were definitely some things that helped keep it on the cheaper side:
no wedding planner
free venue (we got married at my childhood home)
small wedding party
small invite list
DIY decorations
not having the wedding in a major city or destination
setting up the ceremony site ourselves
help from lots of family members
hiring a photographer that was a friend
buffet style catering at the reception
having my cousin make our cake
buying roses by the bundles and decorating ourselves
no dj/band
There were some costly things, but I don't regret them:
my dress
bryan's suit (but we didn't rent it so we're still getting use out of it)
invitations (but I don't regret these as they are keepsakes for our family/friends)
reception (it's hard not to spend a lot here when you feeding people)
Of course, you'll always have things that are going to cost hundreds of dollars like the photographer, catering, tents if you need them, flowers…you get the idea. All in all, the day was perfect! And I think we came in way cheaper than most weddings even though I would like to have said we did better than we did. Here are the numbers broke down by category and the grand total:
| | | |
| --- | --- | --- |
| Flowers | | |
| | | $349.36 |
| Marriage License | | |
| | | |
| | | $105.00 |
| Rings | | |
| | | |
| | | $44.89 |
| Bridesmaid Party | | |
| | | |
| | | $446.15 |
| Groomsmen Party | | |
| | | |
| | | $220.50 |
| Reception | | |
| | | |
| | | $1,363.15 |
| Bride | | |
| | | |
| | | $1,016.09 |
| Groom | | |
| | | |
| | | $674.62 |
| Invitations/Postage | | |
| | | |
| | | $553.97 |
| Decorations | | |
| | | |
| | | $94.27 |
| | | |
| | | |
| | TOTAL | $4,868.00 |
So, there you have it. That's what we spent and how. The only thing this number doesn't reflect is our gas to get to Mississippi and the lights we used because Bryan gave them to me as a Christmas present.
I'd like to highlight a few of the things that we did that saved us money and some that didn't. Maybe you can learn from us. However, my one tip is: if you can afford it, hire a wedding planner. And if you live in the Austin area, I can suggest a great one. Also, my wedding dress is for sale if you'd like to purchase it for a great price! 🙂
Choosing rings made from cheaper material is nice and it holds up better. Bryan's ring is tungsten and mine is stainless steel. It looks just like white gold, but it only cost $14.95!
I had custom converse made for Bryan. This probably wasn't the best purchase, but they are a cool keepsake.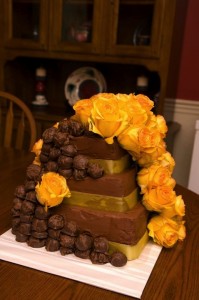 Free cake made by my cousin. That's a good wedding gift in my opinion. It tasted great!
For Bryan's attire we bought the suit which is WAY more expensive than a rental. However, it was altered to fit him, and he looked amazing. Plus, he's already worn it again. And we got it on a buy 2 for $500 at Men's Warehouse.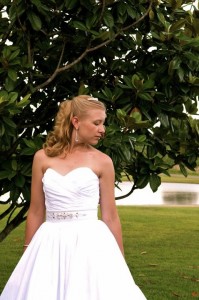 My dress was not cheap, but I did love it! And it was what made me feel ultra special that day. I did get it on sale if that helps. However, I'm not keen on keeping it which means I should hopefully be able to get some of the money back.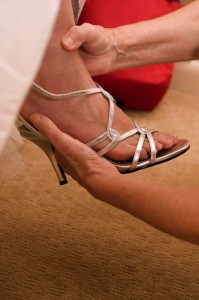 My shoes were a deal with buying the dress. The boutique offered $60 toward shoes with a dress purchase. These ended up costing me around $9.
My cousin was kind enough to give me some earrings and matching bracelet to wear. And the tiara was a cheapo from Charming Charlie.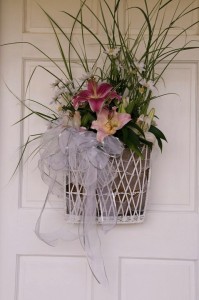 This was made by a family member at no cost to us.
While the programs were professionally printed, I folded and glued them to fan sticks myself.
I drilled all these cans myself after we ate the contents. There were pretty easy and added a nice touch. We hung them with jewelry thread which is super cheap as well.
I made the centerpieces myself as well. I borrowed jars from family and the rocks were from the driveway. We bought 2 bundles of roses (24 roses/bundle) to decorate as we needed. This way I didn't have to pay for the florist to make each one.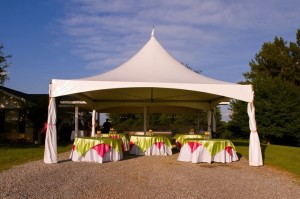 This stuff wasn't that cheap, but because we got married in a small town, it was still a lot cheaper than what a normal place would cost. They set up the tent, but we did the tables/chairs ourselves.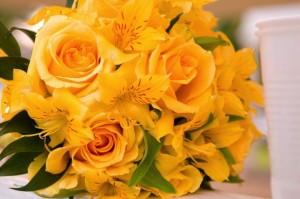 My bouquet was all done by the florist. And since it contains yellow roses, it wasn't super cheap. However, I HAD to have yellow roses. I couldn't afford just yellow roses, however, and they filled in with some other yellow flowers. If you want to go cheaper, skip the roses or better yet get one big giant flower or make your own bouquet. There are lots of sites that tell you how.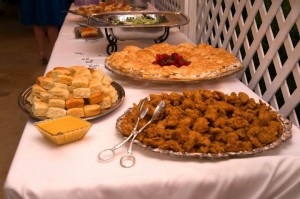 Go with buffet style catering to save money. If you need to be super cheap, make your own food. It's up to you if you want to spend the money or the time. And the crunch time before a wedding is not fun time!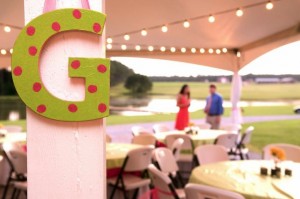 I made these G decorations with some minimal bought stuff from Hobby Lobby and stuff I already owned. There were 3 and they were all different.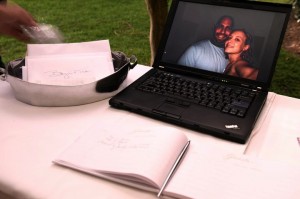 Bryan brought his laptop with a slideshow of photos that starred us.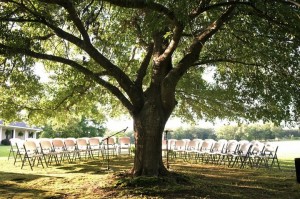 Free wedding site because this is my grandparents' house/land and where I grew up. We did rent the chairs. My dad borrowed equipment for sound/music so that was free. We used a playlist that I created to make music for the reception.
So, there you have it…more than you ever needed to know about how we planned our wedding. I'm very proud of the way it turned out. It was just what I'd always dreamed of.